WHAT REFLEXOLOGY IS NOT – IT IS NOT A BEAUTY TREATMENT ALTHOUGH IT IS OFFERED IN BEAUTY CLINICS.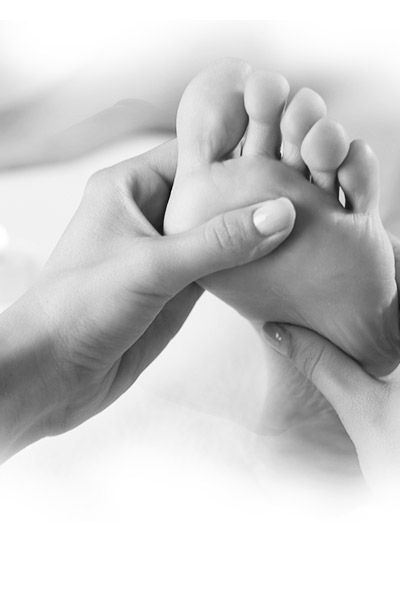 Clinical Reflexology:
Based on the principle that congestion or tension in the body is mirrored in the related parts of the foot. Reflexologists treat the whole person and not just the symptoms of illness. Following illness, stress, injury or disease the body may be in a state of imbalance and vital energy pathways (meridians recognised in the Far East) may be blocked preventing the body from functioning properly. Sensitive trained hands may detect imbalances in the feet and so may help release blockages restoring the free flow of energy (chi) to the whole body. (This is not a beauty therapy)
Baby Reflexology:
May help you from pre-conception right through to post natal care.
(Free treatment after the birth of your baby).
What to expect:
At the first consultation I will take a number of details from you about your health and life style this enables me to get a good picture of the whole you. You will then have a treatment. All I need is your feet.
Case study:
I got a call from a concerned mother. She wanted to know if I could help her daughter who had lost her voice and has not spoken for about 3 months properly. I said I would see her daughter and see if I could help. I worked with the young lady, the throat area was very soar, this indicates to me that there was an in-balance in that part of the body. That afternoon I got a phone call from the young lady. She was speaking quite normally. Further consultations revealed that the loss of voice was due to stress.
You do not have to be unwell to benefit from this therapy!
Prevention is better than cure.
Identifying stress before it takes hold will keep you healthy. 
95% of my cancer patients said that they felt Reflexology has helped with their symptoms especially after Chemo and Radio Therapy
Diabetic? You know how important it is to take care of your feet.
Qualifications
1992 – Reflexologist Member of the Association of Reflexologist (MAR).
Main CPD: Advanced Reflexology – Clinical Reflexology – Maternity Reflexology – Baby reflexology – Ayurvedic healing technique – Head Massage – Hopi ear candles – Many days with AOR (Association of Reflexologist )
Reflexology in Cancer.
Need more information?
To enquire about booking an appointment or to find our more about the services offered please contact me via the web form on the right and I will get back to you.
Thank you.